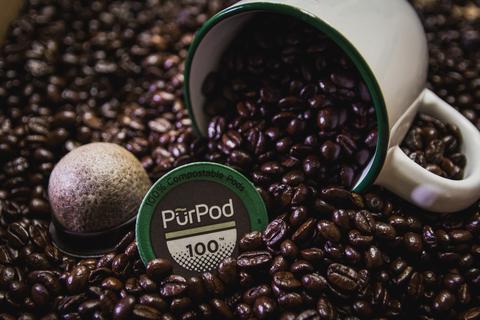 TORONTO, ON. – May 2, 2018 – Consumers and governments around the world are pushing against single-use products and packaging in traditional plastics. They want something better than trash in our oceans and garbage trucks headed to landfills.
Four major developments point to compostable innovations as part of the way forward – with Club Coffee's PurPod 100™ recognized as a leader.
Compostables Included in New Food and Organic Waste Rules
– The Ontario government announced its Food and Organic Waste Framework on April 30th.
– The Framework actively encourages municipalities and other processors to collect compostable products and packaging as part of a commitment to ban organic waste from landfills.
– It calls on producers to ensure that their compostable products are certified to meet recognized standards like the certification of Club Coffee's PurPod 100™ single serve coffee pods from the Biodegradable Products Institute.
Ontario's Legislature Supports Compostable Innovation
– The Ontario Legislature passed a motion on April 19th that calls on the Ontario Government to make the province a leader in compostable packaging to help address waste by:

– Encouraging innovations in waste-free packaging through tax incentives to companies that develop and use new certified compostable packaging; and
– Offering incentives to municipalities to create or enhance organics collection programs and streamlining the approvals process for municipal compost facilities.

– The initiative earned all-party support.
– The motion from Progressive Conservative member Norm Miller follows on his 2017 bill that called for a ban on non-compostable pods in Ontario.
– Liberal Jas Johal has a similar bill in the British Columbia Legislature.
Successful Pod Tests in New York
– The Compost Manufacturing Alliance (CMA) completed a successful test of PurPod 100™ in the New York City area with regional CMA partner We Care Organics.
– This and previous testing confirm that the pods break down successfully in covered and window systems.
– US composters are using the testing success to decide on accepting the pods in their food and organic waste collection programs.
– CMA brings together major composting operators across America to provide real-world field tests of compostable products, adding credibility with composters using similar processes.
Progress on Pod Testing in Toronto
– Club Coffee and the City of Toronto are finalizing the details of a planned test of compostable pods in the City's "green bin" food waste processing system
– Results are expected to mirror evidence to date that indicates the pods break down to the City's required standard.
– As 90% of a used pod's weight is coffee, diversion of this nitrogen-rich food from landfills supports achievement of Toronto's waste diversion and greenhouse-gas targets.
Click to download full press release: Full Press Release